Produkt Yntroduksje
Produkt Number
Lit jo berjocht
Produkt Tags
Produkt Yntroduksje
TS EN 6162-1 Winner merk flensferbiningen foldwaan oan en oerienkomme mei ISO 6162-1 hydraulyske floeistofkrêft - Flensferbiningen mei split of ien stik flensklemmen en metryske of inch skroeven - Diel 1: Flensferbiningen, havens en montageflakken foar gebrûk by drukken fan 3.5 MPa oant 35 MPa TS EN 6162-2 Hydraulyske floeistofkrêft DN13 oant DN 127 oan DN76.
Winner merk flens Anschlüsse omfetsje flens kop, split flens clamps, ien stik flange clamps, buis Anschlüsse, brûk fjouwer metryske skroef foar mounting, en leverje grutte fan DN 13 nei DN 51, as jo nedich hawwe in grutte grutte flens, nim dan kontakt op mei ús klant tsjinst .
It is wichtich dat alle screws licht torqued foardat it tapassen fan de definitive koppel wearden foar te kommen dat brekke de split flange clamps of ien-stik flange clamps tidens ynstallaasje.Hân de screws yn 'e folchoarder werjûn yn ûndersteande figuer te garandearjen unifoarm kontakt op alle fjouwer screw lokaasjes foar te kommen dat de flange Tipping, dat kin liede ta de flange breaking by tapassing fan finale koppel.Dan torque de screws yn de folchoarder werjûn hjirûnder yn twa of mear stappen nei de finale screw koppel nivo en mei help fan de oanbelangjende wrench maten.Screw lingtes wurde berekkene foar stiel, gebrûk fan oare materialen kin fereaskje ferskillende screw lingtes.
De oerflakdruk tusken de skroefkop en de flensklem moat wurde beskôge, it brûken fan ferhurde washers wurdt oanrikkemandearre.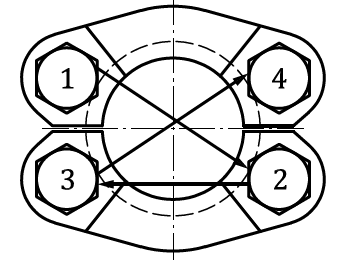 TDizze flensferbiningen wurde breed brûkt yn bouwmasjines yn 'e wrâld, meast foar swiere tapassing.
De plating fan Anschlüsse binne frij fan Cr6 +, en de corrosie beskerming prestaasjes berikte 360h gjin reade roest, it is fier boppe standert ISO 6162-1 en ISO 6162-2 easken.
Lit jo berjocht
Skriuw jo berjocht hjir en stjoer it nei ús